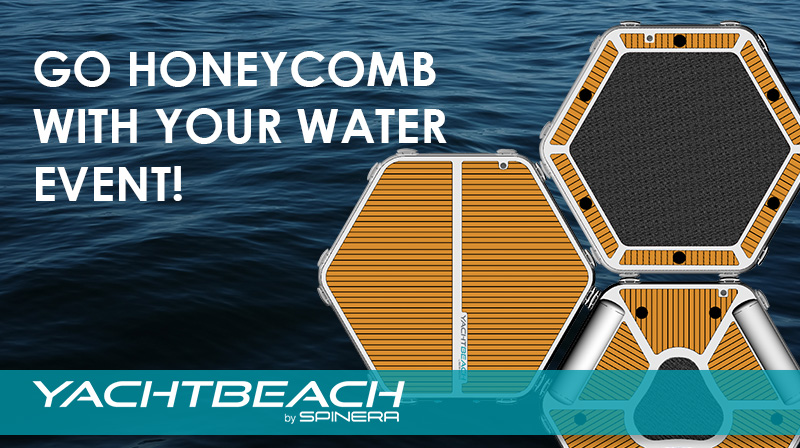 YACHTBEACH LAUNCH


HEX PLATFORMS
We proudly present the new YACHTBEACH platforms in hexagonal shape.

The new Hex platforms are made of UV and saltwater resistant dropstitch material with 20cm thickness and flexible EVA teak. The stable platforms can be used in many ways. As a stand-alone platform behind the yacht or to extend your island. Due to the hexagonal shape, different platforms can be ideally combined and arranged. There are no limits to your imagination.
External dimensions: 250x290cm - 8,2'x9,5'
Dropstich with 20cm thickness – provides incredible stability and buoyancy.
Made of flexible EVA teak, UV and saltwater resistant.
6 sides hexagon design for ideal arrangement of 6 or more adults
Available from mid-May 2023!
---
Yachtbeach Sport Zone
can be used in many ways. Use it as a yoga platform and start your day fit and balanced. Use it as a dock for your water toys or chill with your buddies in the evening.
Yachtbeach Party Zone
is your perfect chillout and party area behind the yacht. Here you can hang out all day and unwind or have a cool party. The mesh net protects you and your friends from jellyfish and other sea creatures. With drink holders for 6 people, nothing stands in the way of your party.
Yachtbeach Relax Zone
was created to relax by the sea without worry and enjoy wonderful pool days behind your yacht. With drink holders for 6 people and 3 back backrest tubes, you can really hang out with your friends and family. The non-slip surface is easy to care for and very easy to clean.